When you think of Gideon, what is your first thought?
Maybe it's nothing because this is the first time you're diving into the story of Gideon.
Or maybe you remember part of his story and how God used him to deliver Israel from the Midianites.
Or do you remember the entire story and how God whittled Gideon's army down to 300 men to defeat the 135,000 Midianites?
No matter what you remember, or don't remember about Gideon, one thing is for certain…there are so many lessons from Gideon that we can learn from and apply to our lives today that will strengthen our faith in the Lord.
In this article I'm just going to share with you 5 of those lessons the Holy Spirit revealed to me while studying Gideon's life.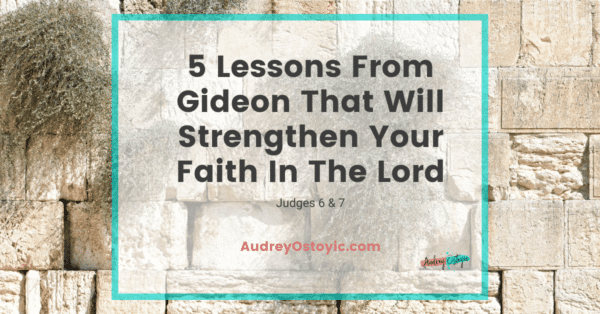 Biblical Lessons We Can Learn Through Gideon
We come to the end of Judges 5 with the final verse "…But let those who love Him (God) be like the sun when it comes out in full strength," and the last sentence reads "So the land had rest for 40 years."
Here we are 40 years later, after all that rest and it says, "Then the children of Israel did evil in the sight of the Lord, so the Lord delivered them into the hand of Midian for seven (7) years." Judges 6:1
Lesson 1: There is ALWAYS a reason for what is going on in your life.
Whether it be because you are doing evil in the sight of the Lord, God is teaching you something, you haven't been obedient in doing what He's asked you to do, or a number of other things.
God never does anything without a reason.
Ask Him to show you that reason and trust me, He will!
Feel like you can't catch a break?
Throughout this time of being under the oppression of the Midianites, the Israelites made dens and caves in the mountain because they were greatly impoverished! Judges 6:6
Every time they would sow and start to see the produce of the earth, the Midianites AND the Amalekites would come up against them and leave them no sustenance. I mean they even took their sheep and donkeys and destroyed the land.
Scripture tells us that the number of men and camels they brought into the land was as numerous as locust, without number (innumerable)!
But check out what the Israelites did!
At the end of verse 6 it says, "…the children of Israel cried out to the Lord."
Oh my sweet sister, if you're feeling like you can't catch a break stop reading this right now and cry out to the Lord! He is listening and longing for you to cry out to Him.
Let's see how God responded!
"7 And it came to pass when the children of Israel cried out to the Lord because of the Midianites, 8 that the Lord sent a prophet to the children of Israel, who said to them, "Thus says the Lord God of Israel: 'I brought you up from Egypt and brought you out of the house of [a]bondage; 9 and I delivered you out of the hand of the Egyptians and out of the hand of all who oppressed you, and drove them out before you and gave you their land. 10 Also I said to you, "I am the Lord your God; do not fear the gods of the Amorites, in whose land you dwell." But you have not obeyed My voice.' "
Lesson 2: "The problem is never with God, the problem is always us."
This is what my very wise husband would say to me whenever I would struggle with the question of why is God allowing this or why isn't he moving in my life?
With that in mind, you have to ask yourself, where have I not obeyed the voice of the Lord? Because God is the same today as He was yesterday and will be tomorrow. So if the Israelites didn't obey Him and they went back into bondage under the Midianites, then you too can be in bondage because of your disobedience.
It can be a hard pill to swallow and not something you want to hear but this I know for sure. The Holy Spirit is already revealing to you what God has asked you to do and it's up to YOU to do it!
Now let's get to Gideon! You can learn more about Gideon by reading Judges chapters 6 – 8 or check out more here.
Who was Gideon?
I think Gideon says it best when he responds to God's calling in saving Israel from the Midianites in Judges 6:15 "Oh my Lord how can I save Israel? Indeed my clan is the weakest in Manasseh, and I am the least in my father's house."
BUT GOD!
I'm telling you right now if you are the least or the weakest, God is going to use you mightily to bring Him Glory.
You see, Gideon, also named Jerubbaal, was the son of Joash from the Ablezrite clan in the tribe of Manasseh. From what Gideon expresses to Yahweh, their clan is the weakest PLUS he is the least in his father's house.
Has Yahweh called you to do something that you don't feel equipped to do? Praise the Lord! You know what that means right?
He is about to do miraculous things in and through your life, my sweet sister.
Gideon's encounter with the Angel
Imagine, you're threshing wheat in the winepress, so the Midianites don't see what you're doing and steal it from you. Minding your own business, doing what is necessary to survive, and helping your family stay.
When you're greeted by the Angel of the Lord who says, "The Lord is with you, you mighty man of valor!"
I find it interesting that Gideon didn't question how God saw him right away. His response was more of a question about where has God been and where are all the miracles their fathers had told them about?
13 And Gideon said unto him, Oh my Lord, if the Lord be with us, why then is all this befallen us? and where be all his miracles which our fathers told us of, saying, Did not the Lord bring us up from Egypt? but now the Lord hath forsaken us, and delivered us into the hands of the Midianites.
It says that the Lord turned to him and said, "Go in this might of yours, and you shall save Israel from the hand of the Midianites. Have I not sent you?"
Now, remember, just two scriptures up, the angel of the Lord called him a MIGHTY man of valor! He didn't question that until the Lord told him that he would defeat the Midianites!
Lesson 3: When Yahweh calls you by what He sees you, don't question it.
God's answer to Gideon's doubt through 1st Miracle
God spoke to Gideon and told him "Surely I will be with you, and you shall defeat the Midianites as one man."
I can relate to Gideon upon hearing this and asking for a sign.
We are talking about going after an army of men who have oppressed your people for years and you're told that YOU will be the one to defeat them.
Gideon asks the Lord, "If I now have found favor in Your sight, then show me a sign that it is You who talks with me."
The angel then performs the miracle of fire shooting up out of a rock and consuming the meat and unleavened bread…then he departs out of Gideon's sight.
Yeah, I think that's about all the signs I would need to know that my Lord was talking to me through the appearance of the angel. What about you?
It's later that night and the Lord speaks to Gideon again. This time it's not through an angel but through God himself. He instructs him to tear down the altars of Baal that his father has and to cut down the wooden image that is beside it.
In place of this altar and image, Gideon is to build an altar to the Lord our God right on top of this stronghold. (I just love this part! Destroy this stronghold and replace it with God's offerings)
In obedience to what the Lord has asked him to do, Gideon grabs 10 men from among his servants and commences to destroying the altars and offering burnt sacrifices to God. But get this…he does it in the evening because "he feared his father's household"!
Lesson 4: You're gonna have to tear down some strongholds in your life and replace them with God's word.
Even if you are walking in fear, do the thing that the Lord has asked you to do! The miracles to follow will far outweigh any fear that tries to hold you back!
Get before the Lord and ask the Holy Spirit to show you what altars you have up and what wooden images you're idolizing in place of God.
Is it your spouse, Social Media, your job, money, worldly possessions, working out, or friends?
Basically anything that you give more time and attention to above God, could be your altars and idols. Ask the Lord to reveal what you are putting ahead of Him and trust me…he'll show you. Then it will be up to YOU to tear it down!
Tearing down the altar of Baal and the wooden image had the people wanting to kill Gideon. They were yelling at his father Joash to bring out his son so that he may die but Joash would have none of that.
As a matter of fact, this is where Gideon got the name Jerubbaal (meaning He that defends Baal; let Baal defend his cause.) Gideon's father told the people "Let the one who would plead for him be put to death by morning! If he is a god, let him plead for himself, because his altar has been torn down!"
Just like Gideon didn't die, you won't either! 😉
The sign of the fleece
It's right after the tearing down of the altar of Baal that the Midianites and Amalekites gathered together and encamped in the Valley of Jezreel to go up against Gideon and Israel.
"But the spirit of the Lord came upon Gideon; then he blew the trumpet, and the Abiezrites gathered behind him."
So here's Gideon with the tribes of Manasseh, Asher, Zebulun, and Naphtali standing with him against the Midianites and Gideon speaks to God.
Gideon said to God, "If you will save Israel by my hand as You have said…look, I shall put a fleece of wool on the threshing floor; if there is dew on the fleece only, and it is dry on all the ground, then I shall know that You will save Israel by my hand, as You have said."
Guess what? God did it!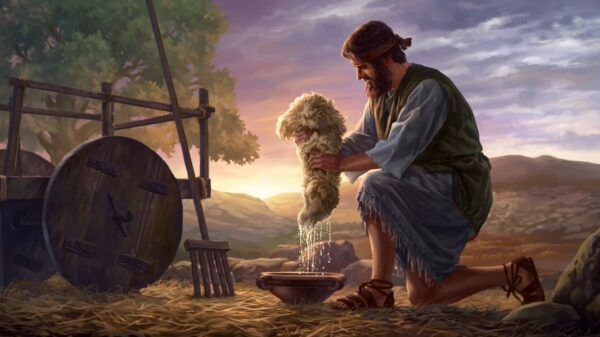 The next morning Gideon woke up to the fleece being so full of water that he was able to wring it out and get a bowlful of water.
You would think that would be enough of a sign right? I mean, he's had an angel appear before him, God himself speaks to him about tearing down the altar and he is still alive!
Nope!
Gideon says to God, "Do not be angry with me, but let me speak just once more: Let me test, I pray, just once more with the fleece; let it now be dry only on the fleece, but on all the ground let there be dew."
God did it again!
He answered Gideon's request by allowing dew to only be on the ground and the fleece was completely dry!
Lesson 5: God knows us so intimately that He will answer our request even in our doubting and questioning Him.
He is gracious and merciful and knows what each one of His children needs to build their faith.
God knows our hearts, He knows our fears, our apprehensions, our experiences, our minds, and our insecurities. He knows EXACTLY what we need in order to move forward with the giftings and calling He has on our lives.
Rest in knowing that He has you right where He needs you and all you have to do is say YES and move forward!
Have you ever thrown out a fleece to God and Him answer it? I'd LOVE to hear about it in the comments below.
Defeating the Midianites
Gideon has had 3 signs from the Lord and is now ready to go out in battle and defeat the Midianites. He gathers his men together, all 32,000 of them only to have the Lord tell him that there are too many men.
WHAT?
Between the Midianites and Amalekites, there were 135,000 men against Gideon's 32,000 men.
But God said, "The people who are with you are too many for Me to give the Midianites into their hands…Whoever is fearful and afraid, let him turn and depart at once from Mount Gilead!" – Judges 7:2-3
And twenty-two thousand of the people returned, and 10-thousand remained.
But 10,000 men is still too great a number for God so He instructs Gideon to take them down to the water and separate those who laps from the water with his tongue from those that get on their knees to drink the water. Those who lap from the water were 300 men and these are the men God used along with Gideon to deliver Isreal from the hand of the Midianites.
300 vs 135,00 = GOD'S VICTORY
Are you at a place in your life where you feel like you are up against 135,000 men and the odds are completely stacked against you?
Well, Praise the Lord!
Do you know what that means? You are walking in one of God's "So That" Moments where He is going to show up and totally destroy the enemy in your life. This spiritual battle you are in will bring Glory to our Abba Yahweh and you will testify of the goodness of God.
Just as Gideon learned to walk in his calling and saw with his own eyes the goodness of God, so will you.
While studying about Gideon the Holy Spirit revealed so much more than even these 5 lessons that I am applying to my life. It's in reading His holy scripture and allowing the Holy Spirit to minister to us that God speak to us in these quiet times.
My prayer is that as you read through the story of Gideon yourself, you allow the Holy Spirit to minister to you and show you the things that may be holding you back from spending time with the Father. Ask Him to show you ways you can apply Gideon's story to your life today.
Above all that you would see yourself as God sees you and not as you see yourself.
Be Blessed,
Audrey