The Fear of the Lord Actually Brings Blessings.

I'll never forget that night we had bible study and one of the ladies shared her heart about the scriptures that talk on the fear of the Lord. She said that she just couldn't wrap her mind around fearing God because he was Love.
She then went on to share some of her past and the horrible things she had gone through. Things that would scare most of us. At times she lived in fear for her life, was beaten and abused, and left to die.
Fear was always lurking in the distance ready to pounce on her at any given moment.
My eyes were open that night to a whole new side of looking at scripture. We all read scripture through the lens of our own lives. But, when you couple that with the Holy Spirit, your spiritual eyes are open and new revelations flow.
I realized that night that she was not the only one that was wrestling with these scriptures. There are millions of people that have lived in fear of someone doing something to them or their loved ones. People that were supposed to love you, honor you, protect you, instead they failed you. They became the perpetrator and the very person you are/were afraid of.
Here's the thing…when scripture tells us to "fear the Lord" it doesn't mean to be afraid or scared of God.
Hear me out!
I'm going to give you two scenarios I want you to think about. Whether you're a parent or not, we've all been kids so I'm sure you can relate.
Scenario 1:
You tell your ten-year-old, "No running around the pool area! If you do, then you're going to your room for the rest of the afternoon while everyone else gets to stay out here and play!"
You've set a rule (or law if you will) and told them the consequence if they did not follow the rule.
No surprise, they run around the pool again, not heeding your warnings and so they are punished and sent to their room for the rest of the day.
The next day you go to a friend's house for a BBQ and they have a pool. You tell your ten-year-old the same thing again but the consequence this time will be that you leave and they will not be able to enjoy the pool for a whole week.
They listen to you this time because they know you're not playing around and follow through on your word.
Do they fear you? Are they afraid of you?
NO! They fear the punishment and knowing that you are the one that executes it.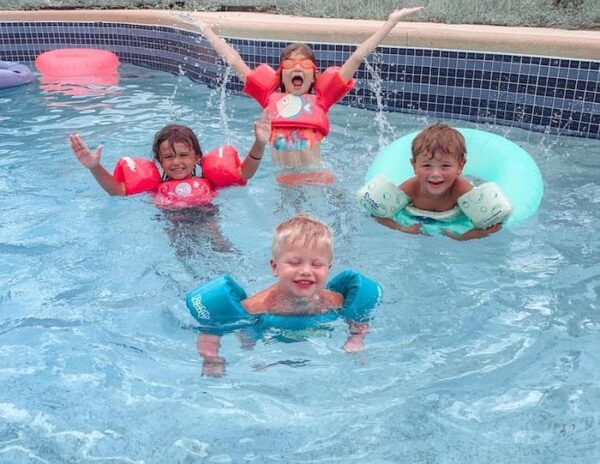 Scenario 2
The same thing as before, you tell your 10-year-old not to run around the pool or they will be punished.
As parents, we know what can happen when children run around the pool. They can trip and fall into the pool and if they don't know how to swim they could drown. Or, even if they did know how to swim, what if they hit their head and was knocked unconscious. Or they fall and break a bone.
There are so many things that could happen so we put that rule into place for their protection. And the protection of others also.
Let's say they don't listen and as they are running around the pool they lose their footing and fall into the pool hitting the step and breaking their ankle.
Obviously, at this point, the punishment for not obeying you as their parent would be that broken ankle.
Does your child fear you? No! Of course, they don't. But, they get a glimpse into why you set up that rule and are now living with the consequences of not following it.
We are that child. God is our Daddy! He set up rules/laws in His word and whether we understand them or not, we should be following them.
What is the Fear of the Lord
We know that scripture tells us that the fear of the Lord is to hate evil. That it is the beginning of wisdom and knowledge. That it brings blessings and peace into our lives.
But what does that look like when we are in 2020 trying to walk out this life as a Christian?
I can only share with you what God has revealed to me and how I walk out the Fear of the Lord in my own life.
To me, the fear of the Lord is to reverence [admire, respect, adoration, esteem) a Holy God. A God that is also my Daddy. A Daddy that has given me some rules (in His scriptures) to follow, even when I don't understand them. A daddy that laid before the consequences if I disobey Him and those rules.
A daddy that gives me so much grace and mercy when I do disobey and that will forever love me even when I do stupid stuff.
Let's look at some scriptures on the fear of the Lord and see what we need to do in order to walk in it.
Scriptures on the fear of the Lord

Job 28:28
"And to man He said, 'Behold, the fear of the Lord, that is wisdom;
And to depart from evil is understanding.'"
Psalm 111:10
The fear of the Lord is the beginning of wisdom;
A good understanding have all those who do His commandments;
His praise endures forever.
Proverbs 1:7
The fear of the Lord is the beginning of knowledge;
Fools despise wisdom and instruction.
Proverbs 10:27
The fear of the Lord prolongs life,
But the years of the wicked will be shortened.
Proverbs 14:27
The fear of the Lord is a fountain of life,
That one may avoid the snares of death.
Isaiah 33:6
And He will be the stability of your times,
A wealth of salvation, wisdom and knowledge;
The fear of the Lord is his treasure.
Proverbs 14:26
In the fear of the Lord, there is strong confidence,
And his children will have a refuge.
Psalm 112:1
Praise the Lord!
How blessed is the man who fears the Lord,
Who greatly delights in His commandments.
Proverbs 8:13
"The fear of the Lord is to hate evil;
Pride and arrogance and the evil way
And the perverted mouth, I hate.
Exodus 20:20
Moses said to the people, "Do not be afraid; for God has come in order to test you, and in order that the fear of Him may remain with you, so that you may not sin." (See that little "so that" in this scripture?)
Proverbs 14:2
He who walks in his uprightness fears the Lord,
But he who is devious in his ways despises Him.
Proverbs 23:17
Do not let your heart envy sinners,
But live in the fear of the Lord always.
Psalm 33:8
Let all the earth fear the Lord;
Let all the inhabitants of the world stand in awe of Him.
The Blessings that come from fearing the Lord
Just looking at the scriptures that I posted (you can view even more here) you can see that the following comes when you walk in His ways and commandments.
Wisdom
Understanding
Knowledge
Prolonged Life
Fountain of Life
Stability
Salvation
Treasure
Confidence
Refuge
Why wouldn't anyone want to walk in His ways? I'll take the blessings over the "feelings" of my flesh any day of the week. Although some days are harder than others and I miss it, but I'm always reminded that God pours out His grace and mercy on me for those times.
Consequences of not fearing the Lord
We read in the scriptures that it's all about following God's way, His commandments, and His laws.
In order to dive into the consequences, we need to head over to Deuteronomy Chapter 28. I'm only going to share the first few verses with you then list out some of the curses. I highly suggest you grab your bible and read the entire chapter of Deuteronomy 28.
The blessings and the curses that come along with obedience and disobedience.
Deuteronomy 28:15-20
15 "But it shall come to pass, if you do not obey the voice of the Lord your God, to observe carefully all His commandments and His statutes which I command you today, that all these curses will come upon you and overtake you:
16 "Cursed shall you be in the city, and cursed shall you be in the country.
17 "Cursed shall be your basket and your kneading bowl.
18 "Cursed shall be the [a]fruit of your body and the produce of your land, the increase of your cattle and the offspring of your flocks.
19 "Cursed shall you be when you come in, and cursed shall you be when you go out.
20 "The Lord will send on you cursing, confusion, and rebuke in all that you set your hand to do until you are destroyed and until you perish quickly, because of the wickedness of your doings in which you have forsaken Me.
Basically, you disobey God and His word and some of the following will be your consequences. Maybe all hell is breaking forth in your life right now. Could it be that you're not walking in the fear of the Lord and obeying His commandments? Just a question you may want to ask yourself as you're reading through these.
Confusion
Nothing you touch turns out
Plagued by disease
severe burning fever
inflammation
Enemies pursue you continuously
Your crops (business/job) dries up
Defeated on all fronts (relationships, finances, health)
Troublesome to everyone around you
Boils
Tumors
Scabs that itch
Spouse not being faithful
All your toiling shall be in vain
You get the idea right? There are so many more curses but it was getting a little too depressing.
It is better to obey our Father God and just do what He has commanded knowing that it's always for our good "so that" He may bless us and be glorified!
I'm going to leave you with this one last scripture on the fear of the Lord. I believe that we are living in the last days and this scripture speaks volumes.
Revelation 14:7
"…Fear God and give glory to Him, for the hour of His judgment has come; and worship Him who made heaven and earth, the sea and springs of water."
Now more than ever, God is calling His children to reverence Him, to honor Him, to seek out that relationship with Him, and glorify Him in this time.
After reading the above, are you now able to see how the fear of the Lord is nowhere close to being afraid of Him? That, fearing Him only brings blessings into your life.
Until next time…
Y'all Be Blessed,
Audrey