Is there really Power in Praise?
Have you ever wondered how in the world God's martyrs can sing Praise to him in the middle of their torture?Or those stories you hear of how they were being burned at the stake and singing praises to God.What about Stephen in the bible who was being stoned yet was praying, "Lord Jesus, receive my spirit." Then he fell on his knees and cried out, "Lord, do not hold this sin against them." When he had said this, he fell asleep/died. (Acts 7:54-60)I've always asked the Lord, really begged him not to have my demise being that of torture.Just being honest here Y'all. A paper cut throws me in a tissy so I can't even imagine being tortured. Of course, my heart does cry out saying, "Nevertheless my Lord, not my will but YOUR will be done."I witnessed this sort of Faith through Praising when my mom had cancer. But I also wondered about the Power of Praise when it comes to my own life and the hard times I've had to endure and will endure.It was August 9, 2006, my 34th Birthday, when my husband and kids arrived at my Mom and Dad's house. I had gotten the call the day before that my mom was sent home with hospice and all 6 of us kids needed to get there because it wouldn't be long before she was gone.My mom was my best friend…my sounding board…my prayer partner…the one I went to for EVERYTHING…the one I spoke to every single day sometimes 2-3 times a day.I couldn't lose her!!We arrived at the house in the evening and when I walked in she was being helped off the toilet by my sister and brother-in-law, she was too weak to even stand by herself. As she was standing up I remember her saying, "Oh Lord, thank you for being so good to me!"
Psalm 34:1 "…I will praise the LORD at all times; His praise will always be on my lips."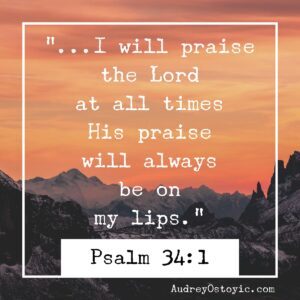 I wanted to scream, "Being Good to you mom? Really, you're dying of cancer and can't even go to the bathroom yourself and still, you're praising Him. For what, He hasn't healed you!"This coming from a prayer warrior myself and seeing God work miracle after miracle through me and around me. I was a force to be reckoned with in the spiritual realm because I know the power and authority God has given to us his children.You can read more about how I was able to Praise God through losing my mom and brother
here
.But this, watching my mom succumb to cancer, this wrecked me to the core of everything I believed in!Mind you, I've gone through many hard times raising my children. From one of them being arrested to another one of them coming out of the closet (that is a whole other testimony and story there) and the third one having to be sent to her Dad's because she was out of control.Through everything I went through with my children, I could always turn to Praise and Worship music and everything just seemed to melt away.But for some reason, when it came to the physical being of life I couldn't get how people could praise in the midst of their bodily pain. I didn't understand how my mom could be so grateful and thankful to God when cancer was ravaging her body.Until now…
Praise takes away your physical pain
Gallstones!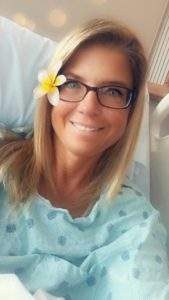 That is what they found in my gallbladder and three of them had escaped and were in my bile duct. The pain was excruciating. I couldn't breathe. I felt like I was going to pass out. I thought I was dying and fear was trying to get the best of me.I landed in the ER where I went 4 ½ hours with no pain medicine.Right there, in one of the ER rooms, surrounded by a host of other people in their rooms I turned on my Praise and Worship music.I closed my eyes and focused all my thoughts and vision toward my Abba Yahweh. I began to sing through the tears rolling down my face because the pain had become too much to bear.I finally got it!In the midst of this horrendous pain, I
chose to Praise The Lord and He sustained me
. Not only did he sustain me the
pain literally started to subside and I could breathe again.
After several songs, the doctor finally came in and gave me some medicine but to be honest I really didn't need it.I was so shocked!I shouldn't have been but I was. For that pain to dissipate as it did in that short amount of time still has me in AWE.That is the Power of Praise!Of course, Praise goes so far beyond even our hurts and wounds.
Praise stops the enemy right in his tracks.
Take Jehoshaphat for example. He was the King of Judah and was far outnumbered by the armies of Ammon, Moab, and mount Seir. They wanted to overtake him and his kingdom YET GOD said nope, not today.King Jehoshaphat and all the people sought the Lord for His help. The Lord assured the people that this would be His battle. He told them to go out against them, and He would do the fighting for them.So what did the children of Judah do?Being the people of "praise" (Judah actually means Praise), and knowing that God manifests His power through praise, they sent their army against their enemies, led by the praisers!So on they went, ahead of the army declaring, "Praise the Lord, for His mercy endureth forever!" And the scripture says, "…when they began to sing and to praise, the LORD set ambushments against the children of Ammon, Moab, and mount Seir, which were come against Judah; and they were smitten" (
2 Chronicles 20:22
).When God's people begin to praise His name, it sends the enemy running!
Praise will crumble the strongholds in your life
Then, of course, we all know the story of Joshua and the walls of Jericho coming down!Here is Joshua and all the Israelites just coming out of the wilderness after 40 years. All the older men have died leaving the younger generation to take the land that Yahweh promised them all those years ago.There is Jericho, a city the size of a track field and a half, that is hedged in by it's stone wall. It is said that the walls of Jericho were approximately 4.9 to 6.6 ft thick and 12 to 17 ft high, as well as the tower 28 ft.The Lord said to Joshua: "See! I have given Jericho into your hand, it's king, and the mighty men of valor. You shall march around the city, all you men of war: you shall go all around the city once. This you shall do six days. And seven priests shall bear seven trumpets of rams' horns before the ark. But the seventh day you shall march around the city seven times, and the priests shall blow the trumpets. It shall come to pass, when they make a long blast with the ran's horn, and when you hear the sound of the turmpet, that all the people shall shout with a great shout; then the wall of the city will fall down flat. And the people shall go up every man straight before him."Can you imagine the people inside Jericho? Here are the Israelites being led by seven priest who are blowing the ram's horn (shofar) along with the trumpets before the ark of the Lord and not one person is saying a thing. They march around Jericho once and then go back to their camp. I'm sure they thought they were crazy but knew that the God of Abraham, Isaac, and Jacob was up to something.When that seventh day came, they marched around Jericho seven times and on that seventh time Joshua said, "Shout, for the Lord has given you the city!" And so it happened that the people shouted while the priests blew the trumpets and the walls fell down flat.Hallelujah!God is the same today as he was yesterday and will be tomorrow.Let your praises be heard…shout for joy…make your enemies flee. For the Lord your God is for you, your family, your businesses, your properties, your entire life!There is POWER In your PRAISE!I challenge you to become a person of praise, and you will experience the release of the power of God in and throughout your life.Let me know in the comments below…What is one song or worhsip music you listen to that catapults you into the presence of the Lord and gives you the power to rise up?Here is mine: