This year one of the things that I felt God was calling me to do more of was to pray in the spirit. Not just to pray in the spirit but to write down all that he was showing me, speaking to me and revealing to me in those precious quiet moments with him.
2019 was a very weird year. It was one of those years you look back on and know that God was working things out but you can't quite put your finger on it. It's like I was caught between the mountain and the valley, going up and down, up and down, up and down.
For 2020, I know Abba is calling me deeper. He is calling me to start walking in the calling He has placed on my life. He is asking me to throw the fear of man and doubt out the window and just listen and speak.
So that is what I'm doing in this post. Yesterday I took about an hour and prayed in the spirit with my gift of tongues and He revealed such an amazing illustration that I just had to share it with you all.
So, as I'm praying I can just sense this stillness and peace and I hear in my spirit to press in and as I do I see this silly putty on a newspaper and it's being pulled away but I can't see what the picture is. I'm continuing to press into the Holy Spirit and I begin praying for people that God is showing me. After about 30 minutes I get the picture again of the Silly Putty and I ask God what is the Silly Putty about?
Basically He was showing me that His children are like silly putty when pressing into His word. When we press into His word we should come out with the imprint of what we read and when others see us they should see the picture of God.
Woah!!! Say What????
For those of you that may have never had the fun and excitement of pressing silly putty on the cartoons in the Sunday Newspaper, you're missing out. Check out the picture below and see what I'm talking about.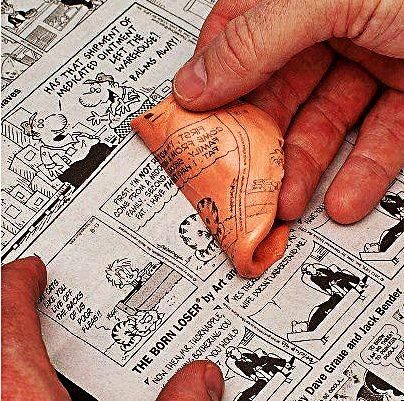 Of course, you know me, I had to run to scripture to back this up and the verse that kept coming to me was James 1:22-15 – "But be doers of the word, and not hearers only, deceiving yourselves. For if anyone is a hearer of the word and not a doer, he is like a man who looks intently at his natural face in a mirror. For he looks at himself and goes away and at once forgets what he was like. But the one who looks into the perfect law, the law of liberty, and perseveres, being no hearer who forgets but a doer who acts, he will be blessed in his doing."
It's not just about reading God's word though, it's about pressing into His word which is alive and has the power to change a person's heart and then DOING it! It's about allowing yourself to be convicted by the Holy Spirit and repent "so that" when you come out of your prayer closet the word has not only transformed you but everyone will see the imprint of God in, on, and through you.
Hallelujah!!!
Take a look at Ephesians 5:1-2 – "Therefore be imitators of God, as beloved children. And walk in love, as Christ loved us and gave himself up for us, a fragrant offering and sacrifice to God."
He has called us to imitate Christ who is LOVE! Are you doing that? After you've spent time in His word, are you showing others the imprint of love that God showed you in His word? Or are you angry and walking around in unforgiveness and bitterness of the heart?
If that is you, let me encourage you to marinate in His word a little bit longer and allow the Holy Spirit to walk you through forgiving that person and walk in love.
If you've had the pleasure of working with that silly putty you know that the harder you pressed and the longer it stayed on the image the more vibrant and clear that image was.
Pressing in harder and longer to God's word will make you just as clear and vibrant for His kingdom!
Glory to God!
Isn't it amazing what God will show you if you just separate and seek Him?
While you were reading this did the Holy Spirit reveal anything to you? If so, I'd love to hear about it and any scriptures that may have risen up within you.
Y'all Be Blessed,
Audrey