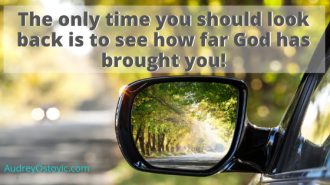 When was the last time you wrote down everything you have accomplished within the last 6 months to a year?
I know that 2020 is just a couple weeks away and while everyone has Christmas and New Years on their minds you know the posts are going to start about goals and resolutions.
But I want to try something different with y'all. I want you to take a moment and write down everything you have accomplished this year.
One of the tricks of the enemy is to make us focus on how far away the goal is or that we didn't reach the goal we had set for ourselves instead of focusing on just how far we've allowed God to bring us.
Yes, I know what God's word tells us in Philippines about looking back but that's looking back at the world/sin we left behind.
Back in the day God instructed His people to actually set up memorials in different places "so that" they could remember what He had done for them.
These memorials were made with stones. In today's time instead of stones, I mean if you want to set up stones you can, but these stones can be in a form of journaling, blogging, or even vlogging.
For me, it's been journaling, here on this blog as well as writing it down!
I can look back in my journal and see how God walked me through some of the darkest moments of my life. It's reading these journal entries that I'm reminded of just how far I've come with God by my side.
So what led me to blog about this?
While I was out at my horseback riding lessons last week I was getting very frustrated. I felt like I should be a lot further along than what I was. I actually was thinking I should have already reached my goal and been doing even more.
I guess that the overachiever and perfectionist coming out in me.
Can I get a show of hands from all you other women that are overcoming the perfectionism? lol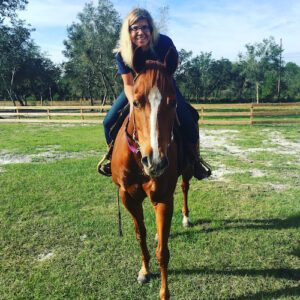 You see, at the beginning of 2018 I set a goal for myself that my the end of the year I would be galloping on a horse confidently and closer to my goal of owning my own horse.
Well, I didn't even start taking lessons until August of that year (2018) and do you know everything I had to overcome before I could even start riding the horse?
Let's just say that to even be around a horse gave me anxiety to the point of hyperventilating and crying. I was terrified to be around them and in my mind just knew they would rear up on me, bite me or worse kick me!
Now you may be wondering why in the world would I want to gallop on a horse when I was so terrified of them? That's a great question!
The answer…because I've always loved horses and as a little girl I wanted to own my own horse but through some scary incidences with horses I allowed fear and terror to enter and had given up on riding and owning my own horse.
Is there something you've always wanted to do but have allowed fear to hold you back? My sweet sister, let it go and get out there and do that thing God is calling you to do and is your heart desire to do!
But at the end of 2017, beginning of 2018, God was walking me through this process of overcoming those fears and doing things afraid.
So back to my lesson…my trainer Tanya has been training me on riding western but the last couple sessions, she's had me doing English.
Woah!!! I had no idea how different Western and English riding are from each other.
Let's just say that when it was time to canter I couldn't do it that first session. All the fear came washing back over me and I just couldn't do it. This session though I got two steps out of it and nothing more.
That's where the frustration came in. I wasn't able to canter like I can with Western and so those two steps didn't mean anything to me. I thought I should be able to canter and not miss a beat but I couldn't.
Anyone else out there feel like they should be further along than where they are?
I needed more practice with balancing and how I sit on Kali (the mare I've been training on).
Tanya could tell I was upset and frustrated but what she said next is what really hit me and made me realize how the enemy tricks us. She asked me "how many steps did I get in the canter last week?" Of course I said "none." Then she asked me "how many I got today?" I said, "Two!"
Then she started listing off everything I've overcome in the past year and some months.
I go to the pasture and get Kali
Tack her up (groom, saddle her up, put on her bridle)
Clean her hooves before riding her
I've ridden her bareback and trotted on her bareback (no saddle)
I've ridden her with no reigns and steered her with only my body language and feet
Posting
Cantered
Cantered bareback on the lead line
and I'm sure there is more that I can't remember.
Want to see one of my stones that I love watching over and over because of the goodness of God?
Check out this video of me cantering on Kali after months and months of practice and overcoming fear after fear.
Meditate
Let's look at the story of Joshua, the Israelites, and the memorial stones.
Joshua 4:4-7 – Then Joshua called the twelve men from the people of Israel, whom he had appointed, a man from each tribe. 5 And Joshua said to them, "Pass on before the ark of the Lord your God into the midst of the Jordan, and take up each of you a stone upon his shoulder, according to the number of the tribes of the people of Israel, 6 that this may be a sign among you. When your children ask in time to come, 'What do those stones mean to you?' 7 then you shall tell them that the waters of the Jordan were cut off before the ark of the covenant of the Lord. When it passed over the Jordan, the waters of the Jordan were cut off. So these stones shall be to the people of Israel a memorial forever."
It goes on to say in
Joshua 4:21-24 – "And he said to the people of Israel, "When your children ask their fathers in times to come, 'What do these stones mean?' 22 then you shall let your children know, 'Israel passed over this Jordan on dry ground.' 23 For the Lord your God dried up the waters of the Jordan for you until you passed over, as the Lord your God did to the Red Sea, which he dried up for us until we passed over, 24 so that all the peoples of the earth may know that the hand of the Lord is mighty, that you may fear the Lord your God forever."
Do you see that? Those memorial stones were placed there for the generations to come SO THAT they would know that the hand of the Lord is mighty, that you may fear the Lord your God forever!!!
You see, when you became God's child your life is meant to glorify God and point others back to Him.
It's sharing an intimate relationship with our heavenly Father and over coming the enemy with every single stone we lay down.
Here's a Challenge:
You have 19 days until January 1, 2020. I know the hustle and bustle of Christmas time has you doing a lot more than normal but I pray that you take the time to step away and be alone with the Father.
Take a journal, a piece of paper, a video, or whatever else you need and jot down all you have accomplished this year in 2019.
The biggest challenge will be I don't want you to focus on what you didn't get accomplished I only want you to write down what you did get accomplished this year!
Then, I want you to share it in the comments below! I want to celebrate with you all your wins and encourage you to keep going.
How about it? Let's do this celebrating together and encourage one another.
Be Blessed my beautiful sisters and remember…you're so much further along than you can even imagine.
Audrey