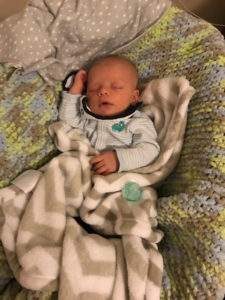 My youngest daughter Makayla had just given birth to her first baby, a very cute, precious little boy named Ezra Michael. She stayed with us her entire pregnancy since her husband was deployed to Iraq and they had just got stationed in North Carolina where she knew no-one.
Of course, this Momma was very happy and excited to get to walk out this journey of my daughter's life with her.
I was able to lay hands on her belly and speak God's word to and over Ezra as God was forming him in the depths of his Mommy's belly. We spoke life and God's blessings over him and whenever someone would speak something that didn't line up with the word of God don't you know this Grandma rose up in spirit and crushed those words spoken over him.
We prayed that her husband Wes would make it home to see his first born son being born – prayer was answered
We prayed that her labor and delivery would be smooth and she wouldn't tear – prayer answered
We asked Abba that Ezra would have no complications and that he was born natural – prayer answered
We prayed for many more things that God was so faithful to answer.
The one thing that the Holy Spirit prompted me to come against was the spirit of postpartum depression. I had battled that with her older sister Brianna and under my spiritual watch she was not going to battle it. Of course, back then I had NO IDEA what I was going through and definitely didn't have anyone in my life that knew their power and authority in the spiritual realm.
Well, it was a day or two after she brought Ezra home and came to the realization she was not able to breastfeed. Won't go into detail about since it's her testimony but it was a huge blow to her and that is all Satan needed…that open door.
Don't you know that this Momma and Dad went into spiritual warfare over her, along with her husband and took authority over that spirit and sent it right where the Lord Jesus would have it go.
As my husband was praying he spoke something that just resonated with my spirit and soul, he said, "You were handcrafted by God…" then, of course, he kept on praying but those 5 words lingered long after the prayer was spoken and even answered.
It was a few days later when I was in prayer and listening to Praise and Worship music that I was led to look up the scripture about being God's Masterpiece. I headed over to Ephesians 2:10 and this is what it says, "For we are God's masterpiece. He has created us anew in Christ Jesus, so we can do the good things he planned for us long ago." I meditated on that for days along with being handcrafted by God.
I meditated on this scripture for days along with being handcrafted by God and I started saying, "I am a Masterpiece, Handcrafted by God," when I woke, during the day and when I laid down at night time.
Now, I am NOT a graphic designer at all! Let me repeat that…I am NOT a graphic design person at all and anything I have ever tried to create from my visions fail miserably. I end up taking it to my sister Melissa and she makes it pretty for me. But this time, I had the vision in my head and while waiting for Hurricane Irma to hit us I sat down and designed the following masterpiece.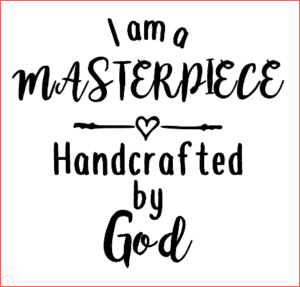 I love how it came out so much so I made a little onsie for baby Ezra and painted it on a pallet sign that I made from all the pallets I have. Check them out below.
What visions has God given you that you're holding onto and not sharing with others?
Y'all Be Blessed,
Audrey