Praising God in the Storm has to be one of the hardest things to do yet it's one of the greatest gifts God has given to us his children.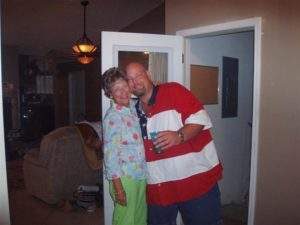 My mom and brother Ray who also went home to be with the Lord 6 years after Mom
It was August 9, 2006, my 34th Birthday, when my husband and kids arrived at my Mom and Dad's house. I had gotten the call the day before that my mom was sent home with hospice and all 6 of us kids needed to get there because it wouldn't be long before she was gone.
My mom was my best friend…my sounding board…my prayer partner…the one I went to for EVERYTHING…the one I spoke to every single day sometimes 2-3 times a day.
I couldn't lose her!!
You see, my mom was diagnosed with Cancer in Nov. of 2005, and in the midst of all the treatments, all the chemo, all the stuff that was being spoken to her she asked me to stand with her in faith that our savior Jesus Christ would heal her and she would be a testimony to the goodness and faithfulness of God.
So I did! I stood with her in prayer, in faith, in words, in spirit, and in the soul. I stood with her on God's word and his promises.
But it didn't work, or so I thought!
Now I know God's ways and plans are so much bigger than ours. 😉
As I was saying we arrived at the house in the evening and when I walked in she was being helped off the toilet by my sister and brother-in-law, she was too weak to even stand by herself. As she was standing up I remember her saying, "Oh Lord, thank you for being so good to me!"
…I will praise the LORD at all times; His praise will always be on my lips."
I wanted to scream, "Being Good to you mom? Really, you're dying of cancer and can't even go to the bathroom yourself and still, you're praising Him. For what, He hasn't healed you!"
This coming from a prayer warrior myself and seeing God work miracle after miracle through me and around me. I was a force to be reckoned with in the spiritual realm because I know the power and authority God has given to us his children.
But this, watching my mom dying of cancer, this wrecked me to the core of everything I believed in!
Four days later, on August 13, 2006, my mom took her last breath here on this earth, with a huge smile on her face, and her first breath in paradise. Surrounded by all of her children, with the exception of my brother Ray who was on his way back from picking up his wife from the airport, some of her grandchildren and my Dad singing to her as she passed.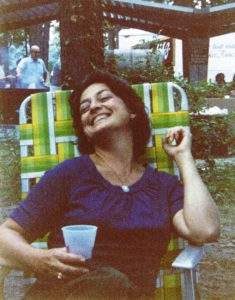 After losing her I fell into such a horrible depression, turned my back on God, and honestly didn't care what happened to me or any of my family. It was such a dark, depressing time with no hope in sight.
But God! He reached through that darkness and brought me out of that miry clay to where I am today. This is a story and testimony all on its own that I'll share as I continue this site.
Through the first 5 years of her being gone, I kept hearing my mom say those words over and over again in my head, "Oh Lord, thank you for being so good to me!"
I prayed that in the midst of the storms of my life, no matter what they were, I would be able to Praise God in them and through them and be a testimony to those around me just like my mom was.
Well, don't you know when you pray for something like that things have to happen (what I like to call God's "So That Moments") that put you in a situation where you're forced to practice what you prayed for so you can get better at it?
Yeah, well all hell broke loose in my life, and throughout the last 6 years, God has taken me by the hand and walked me through EVERY SINGLE SITUATION, and with each one of these, I have learned how to praise God through the storm.
Praising God in the Storm
The following things are things I've done over the years that have taught me how to Praise God in the midst of some of the most tumultuous storms of life I've ever been through.
Doing these things have taken me from a state of total brokenness, despair, anguish, hopelessness into a life where I can walk through these storms with a renewed sense of hope, joy unspeakable, a peace that goes beyond all understanding and faith that grows with every obstacle.
PRAISE AND WORSHIP MUSIC –
This literally right here is the number one thing I tell everyone to do when they are facing the most gut-wrenching storms of life. It literally takes you a click or tap of a button to listen to worship music.
When you have no idea what to pray, what scripture to read your bible, you feel so lost and hopeless, or you're angry and have been betrayed when you put on that music and shut yourself out from the world you're instantly taken into his presence.
When your focus is whole heartily on Him, our Abba, our Savior your problems disappear and your heart begins to heal with each anointed worship song you hear.
Seriously…getaway for just 15 minutes and listen to worship music and begin to Praise God in the storm and all that you are going through.
Here's a great worship song to get you Praising the Lord!

READ SCRIPTURE OUT LOUD –
His word tells us in Romans 10:17 "Faith comes by hearing and hearing by the word of God" I love reciting the book of Psalms out loud.
Find a book, a scripture, a story, and read that out loud to yourself. God's word is ALIVE and in Numbers 23:19 he says, "God is not a man, that He should lie, Nor a son of man, that He should repent; Has He said, and will He not do it? Or has He spoken, and will He not make it good?"
When you read HIS word, it is speaking life over you and ultimately praising God for his word that he has given to us.
Praising God in the Storm Verses
These scriptures are ones that are continually on my lips when I'm going through difficult times in my life and just want to Praise Him.
Psalm 34:1 –"I will bless the Lord at all times; his praise shall continually be in my mouth."
James 5:13 – Is anyone among you suffering? Let him pray. Is anyone cheerful? Let him sing praise.
Jeremiah 17:14 – Heal me, O LORD, and I shall be healed; save me, and I shall be saved, for you are my praise.
Psalm 119:164 – Seven times a day I praise you for your righteous rules.
Psalm 9:11 – Sing praises to the LORD, who sits enthroned in Zion! Tell among the peoples his deeds!
Psalm 27:4-5 – One thing have I asked of the LORD, that will I seek after: that I may dwell in the house of the LORD all the days of my life, to gaze upon the beauty of the LORD and to inquire in his temple. For he will hide me in his shelter in the day of trouble; he will conceal me under the cover of his tent; he will lift me high upon a rock.
Psalm 42:5 – Why are you cast down, O my soul, and why are you in turmoil within me? Hope in God; for I shall again praise him, my salvation
MEDITATE ON EVERYTHING HE HAS ALREADY DONE FOR YOU –
If you don't keep a journal please allow me to highly recommend that you start? The journals I kept before, during, and even now are full of testimonies of how God loves me, cherishes me, believes in me, fights for me redeemed me, and has, is, and always will be right there by my side.
Reading these journals I can't help but praise him and be reminded of everything he has freed me from. They are a reminder to the fact that there is no storm of life that can take me out because my Abba is the one true God who created me for this time and season and nothing can hurt me.
He has created you to have a relationship with you and to glorify Himself through you. Meditate on his goodness and begin to Praise him through whatever you are going through.
MINISTER TO OTHERS – Whew…this one right here, when others share their heart with you and you allow the Holy Spirit to minister through you two things happen. 1. You are no longer focused on yourself and your problems and 2. Every time I've ministered to others the Holy Spirit ministers to me and a lot of the times will give me the answer to a situation I'm going through or answer a prayer I've been praying.
There is so much POWER in ministering to others, maybe that's why Satan is trying so hard to silence us Christians.
"They triumphed over him by the blood of the Lamb and by the word of their testimony; they did not love their lives so much as to shrink from death." Revelation 12:11
This is how we praise God in the midst of those storms, we share our testimony, and in doing that we glorify our Abba and the enemy gets a huge black eye. 😉
Are you Praising God in the Storm? Start with these 4 things and I promise you that the Holy Spirit will reveal even more ways you can Praise Him in the storm.
Do you know something I realized when I began doing these things?
My mom did the exact stuff while going through not only cancer but other storms in her life. Funny how God brings things back to our remembrance when we need it.
What about you? What are some things that you do that helps you to Praise God through the storms in your own life? I'd love to hear about them as I'm sure others that read this post would so leave it in the comment section below.
Y'all Be Blessed,
Audrey